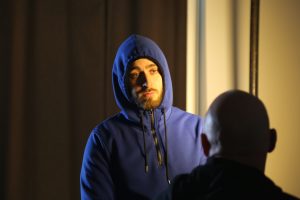 Sami Ismat presents Nostalgic Buds—world premiere video
Date: Premieres Wednesday, May 26 at 7pm with watch party
Location: Pivot Arts Website
This project explores how immigrants shop at ethnic food stores when they move to the U.S. to nostalgically remember pleasant moments in their home countries. Through filming this experience and having a conversation, we will try to recall beautiful cultural values that might be foundational to imagining a utopic version of their home country and rebuilding it one day.
---
Sami Ismat is an interdisciplinary artist from Damascus, Syria working between theatre, performance & film alongside other disciplines. Sami creates work that unpacks, investigates, and interrogates the ongoing Syrian crisis, and its effects on society. Sami's work tries to challenge mainstream ideas on refugees, Muslims, and the Middle East through his own biographical experiences.
Sami's solo video work and performance is of confrontational nature that aims to provoke emotional responses from the viewer, and attempts to get them to re-evaluating social and cultural norms of Eurocentric & Middle Eastern societies. His theatrical works portrays the political realities of Syria through devised theatre techniques and interdisciplinary storytelling aesthetics inspired by global performance as a source.
Sami's projects are often process oriented and the rehearsals are based on experimentation and exploring sources of research in a collaboration.
---
Header Image: Armin Hayrapatien, photo by Jackie Rivas
List Image: Sami Ismat, photo by Nura Husseini