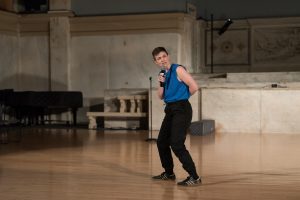 Nora Sharp presents The Real Dance: A Micro Reality TV Show—world premiere video
Date: Premieres Thursday, May 27 at 7pm includes talk back with the artists
Location: Private link for Premiere event
This is the true story of five dancers, forced to live in their houses, dance (mostly) alone and have their improvisations taped, to find out what happens when people stop being polite and start moving for real.
---
Nora Sharp is a multidisciplinary creator and performer whose work spans dance, storytelling, comedy, and film. Nora's work has been presented at Steppenwolf Theatre's LookOut Series (Chicago), On the Boards (Seattle), Movement Research at the Judson Church (NYC), the Shawl-Anderson Dance Center (Berkeley), and the Midwest Regional Alternative Dance Festival (Kalamazoo). Nora has been an artist in residence at High Concept Labs and Links Hall Co-MISSIONS, a selected choreographer for Synapse Arts – New Works, and a twice Featured Artist in the Fly Honey Show, and has also performed for or collaborated with Spence Warren, Ayako Kato, Udita Upadhyaya, Aaron Greer, Lindsey Barlag Thornton + Amanda Dunne Acevedo, Jane Jerardi, and Kirsten Leenaars, among others.
In addition to performing, from 2014-2019 Nora co-coordinated the works-in-progress performance series Research Project, which created opportunities for independent artists to share their work to small, supportive audiences and gain valuable feedback in a facilitated space. In 2019 Nora also created THE AMTRAKLOR ("Amtrak" + "The Bachelor"), a fundraiser for Links Hall that gifted a roundtrip train ticket coupon to a Chicago artist for creative research.
Nora's last big project before the pandemic hit was "Family Reunion," an improvisational dance work that explored small group dynamics and community-building for queer and trans people and incorporated ongoing live video documentation in the process and performance.
---
Header Image: Nora Sharp, photo by Robyn Hoing
List Image: Nora Sharp, photo by Ryutaro Mishima