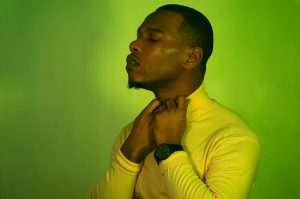 Perceptions Theatre X Ndgo Blk present Utopian Views—world premiere video
Date: Premieres Tuesday, May 25 at 7pm with watch party
Location: pivotarts.org/festival
Utopian Views explores what makes a place a utopia and the changes Chicago would have to make to reach such a state. Before we build policy, we must center the most oppressed, understanding how our ideals and actions harm one another. Written and performed by Ndgo Blk.
---
Ndgo Blk is a Chicago based MC, vocalist, and producer whose art centers Black-urban narratives. Whether the song be carefree or politically charged, Ndgo Blk offers poetic, hip-hop and pop music that echos artist like Frank Ocean, Tobi Lou, and Miguel. 
Perceptions Theatre works to change the way people, perceive the world around them one show at a time by shining light on underserved communities with theatre that: eliminates prejudice and discrimination by showing cultures in their natural settings and educating on said cultures, lessens neighborhood tensions and that defends human and civil rights, to name a few, while also providing entertainment and being an educational and literary training ground to the Chicagoland area, specifically the South Shore region. We help our consumers start their career from headshots, to making a resume, actor and technical training services, self-taping services, to workshops and casting for our own shows and working with the underserved communities around Chicago by bringing our services to them i.e. schools and other organizations.
---
Header Image: Antwon Funches, photo by John Zhu 
List Image: Antwon Funches, photo by Antwon Funches