No events
There are no scheduled events. Please check back soon!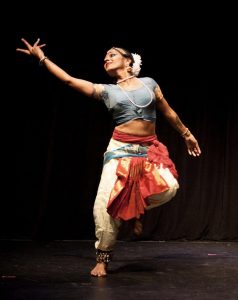 Laksha Dantran presents Far Within: A Contemporary Dance Production—world premiere video installation
Date(s): June 1 and June 2 at 7:30pm
Location: Rivendell Theater, 5775 N Ridge Ave
Engage with questions of unconditional love and human nature through this visualization of a trans woman's nightmare during an isolating global pandemic. She saddens about the fragile state of humanity, but daymares a better world.
This dance video will be presented via a live showing. Following the screening, we facilitate a discussion about the piece as well as societal issues for transgender/gender nonconforming and AAPI individuals.
Additionally, there will be a lobby display featuring a simple audience interaction surrounding the questions: "How do you Imagine Utopia?" and "What does unconditional love mean to you?"
Dancers: Tuli Bera, Keely Morris, Mary Ann Delacruz, Ashwaty Chennat, and Laksha Dantran. Videography and Editing: Jacob Klippenstein and Peter Dorman.
Post-Screening Discussion Featured Guests:
June 1st
Marc Macaranas, Filipino Queer Digital Media Dance artist and Professor at Northern Illinois University
Gaby Labotka, Latinx Trans/GNC activist and Theatre Artist
Tuli Bera, Far Within Dancer
Ashwaty Chennat, Reimagining Utopia Festival Co-Curator; Far Within Dancer
June 2nd
Will Wilhelm, Latinx Trans/GNC Performer and activist
---
Laksha Dantran is a professional Indian classical Bharatanatyam dance artist in Chicago.
Laksha's training in Bharatanatyam began at the age of 10. She later joined the Kalakshetra Foundation College of Fine Arts in Chennai, Tamil Nadu India, and successfully completed a 6-year professional certification in Bharatanatyam while working as a tutor.
Laksha's work largely focuses on LGBTQ perspectives and her own experiences as a trans woman. She has presented and performed with Mandala South Asian Performing Arts, the Indo-American Center, The Fly Honey Show, SheWolf Sacred, and more. Laksha is  a 2019 3Arts / HMS Fund Awardee as well as a 2019 SPARK Microgrant recipient for visual arts, and she has toured throughout India, Belgium, Sri Lanka, Malaysia, and the United States.
Laksha strongly believes that art is nothing but a cosmic energy of genderless love.
---
Marc Macaranas (he/him) is a dance artist and Movement Media Maker. His performance career began in 2006 with Lucky Plush Productions and Mordine & Co. Dance Theater. In 2008 he joined DanceWorks Chicago as a founding dancer. Since then he has performed in Chicago, across North America and in Europe with companies that include Lucky Plush Productions, Cerqua Rivera Dance Theatre, Luna Negra Dance Theater, and RUBBERBANDance Group. As a Movement Media Maker, his creative practice collides dancing bodies and digital interfaces. He makes choreography for proscenium stages, non-traditional spaces, and cell phone screens. He constructs and implements interactive digital media installations and creates projection design for dance and theatre. Marc is an Assistant Professor of Dance and Digital Media at Northern Illinois University.
Gaby Labotka (she/they/anything respectful) is an actor, director, choreographer, and more living and working in the city of Chicago. She is a fierce advocate for respect, empathy, representation, inclusion, and safety in the theatre, and so she is dedicated to making art that reflects that. Recent Performance credits include: Neverland (Prop Thtr); A Story Told in Seven Fights (Neo-Futurists); We're Gonna Be Okay (ATC); Peter and the Starcatcher (Metropolis Theatre Company); Henry V (Babes with Blades); Romeo and Juliet (Teatro Vista); and The Hammer Trinity (The House Theatre of Chicago). Gaby is an Advanced Actor Combatant with the Society of American Fight Directors, has received training from Intimacy Directors International, and is often a Teaching Assistant for stage combat classes at MACE and The Actors' Gymnasium. Gaby is the Associate Artistic Director of the Chicago Theatre Marathon, and a proud member of the Alliance of Latinx Theatre Artists (ALTA).
Will Wilhelm (they/them) is a Chicago-based actor, educator, writer, and host of the podcast Teacakes & Tarot: Conversations with Queer Futurists, in which they interview other artists about how to actualize a more inclusive industry. A Michigan native, Will earned their BA in Theatre from Northwestern University before becoming the first non-binary company member at the Oregon Shakespeare Festival. There, they reimaged genderqueer characters in As You Like It, MacBeth, and Bill Rauch's Oklahoma! Other credits include creating the role of Person in Charge in Straight White Men, written and directed by Young Jean Lee (Midwest Premiere at Steppenwolf Theatre Company), and Angel in RENT (Metropolis Performing Arts Center, BroadwayWorld Chicago Award winner). Other affiliations include Victory Gardens Theater, Williamstown Theatre Festival, and About Face Theatre Company. In 2020, Will wrote "Gender is Performance" for HowlRound and was featured in the Chicago Tribune. Will is represented by Gray Talent Group.
---
List Image: Laksha Dantran, photo by Matthew Gregory Hollis