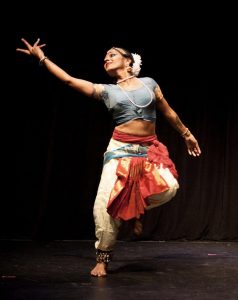 Laksha Dantran presents Far Within: A Contemporary Dance Production—world premiere video installation
Location: Rivendell Theater, 5775 N Ridge Ave
Date(s): TBA
This piece is a visualization of a trans woman's nightmare during the pandemic. She asks a question to herself: "Is social distancing more challenging?" She saddens that humanity has gone so far away within us in understanding the unconditional love of this nature. However, she daymares a better world. Dancers: Tuli Bera, Keely Morris, Mary Ann Delacruz ,Ashwaty Chennat and Laksha Dantran. Videography and Editing: Jacob Klippenstein and Peter Dorman.
---
Laksha Dantran is a professional Indian classical Bharatanatyam dance artist in Chicago.
At the age of 10, she had officially started learning Bharatanatyam and later joined "Kalakshetra Foundation" College of fine arts, Chennai, Tamilnadu India and successfully completed a 6-year professional certification in Bharatanatyam and also worked there as a tutor in Bharatanatyam.
Being a strongly determined, socially responsible person and as an artist with powerful vision, she produced original theater works that had featured LGBTQ perspectives and her own experiences as a trans woman. 
Laksha's works as  a choreographer and performer in the Story of Ram, Ratri: night of dance and music, Pranaya: Romances in Poetry, as a contemporary performer in "With Rumi," "Fire bird" with Mandala South Asian performing arts group  and also as a director, performer and choreographer in Shoorpanakha a video film for Indo-National museum /Mandala arts, as a curator of the International women's day 2021 virtual celebration for Indo American Center, as a featured artist in "Fly Honey Show" in 2019 and  in She Wolf Sacred Movement in 2019  were all well received by the Chicago dance lovers.
Laksha is  a recipient of 3Arts award for performing arts in 2019 and Spark micro grant for visual arts in 2019.
Laksha strongly believes in art is nothing but a cosmic energy of genderless love.
---
List Image: Laksha Dantran, photo by Matthew Gregory Hollis