No events
There are no scheduled events. Please check back soon!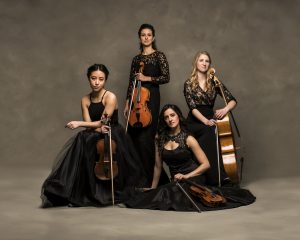 KAIA String Quartet presents String Quartet in B minor, Scherzo by Teresa Carreño and String Quartet No. 3, 1st and 2nd movements, by Claudio Santoro—live music performance
Date: Sunday, June 6 at 5pm and at 6pm
Location: Colvin House, 5940 N Sheridan Road, outdoors
KAIA String Quartet is dedicated to presenting the rich tradition of music from Latin America. At this outdoor event, KAIA will perform two pieces. The first is Venezuelan composer Teresa Carreño's String Quartet in B minor (1896), described as one of her most sophisticated works in spite of certain restrictions she faced as a 19th century female composer. The second is by Claudio Santoro, who was among the major influential figures in 20th century Brazilian music, praised by his renowned contemporaries Igor Stravinsky and Aaron Copland. He composed the String Quartet No. 3 during his "Nationalistic Period" after 1953 and, although rarely performed, it is one of 500 compositions he wrote throughout his lifetime. 
Following KAIA's live performance, join a musical procession to Thorndale beach where we'll let go of our pandemic fears and look towards a hopeful future—guided by song, image and simple ceremony, created by the Persephone Project.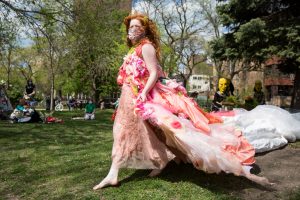 In the event that this outdoor event is cancelled due to inclement weather, there will be a new performance date of Sunday, June 13 at 5pm and 6pm. If the performance date does change, patrons will be notified the morning of June 6. 
---
From the tango of the Rio de la Plata to the string quartets of Silvestre Revueltas, the KAIA String Quartet is an ensemble devoted to promoting the rich and colorful music of Latin America. Active performers in both the US and abroad, highlights of the 2019-2020 season include a residency at the Avaloch Farm Institute, a tour of Argentina and Uruguay, as well as performances at concert series in North Carolina, Virginia, and Wisconsin.
The Quartet plays an active role in Chicago's music scene where they are regular guests at the Chicago Latino Music Festival and the Ukrainian Institute of Modern Art. Most recently they were the ensemble in residence at Chicago's classical radio station, WFMT. During this residency they explored the world of Latin classical music with audiences through daily radio segments, performances and broadcasts around the city and the production of  KAIA Kids, a series of children's education videos.  
Celebrated for its ability to "beautifully blur the lines between jazz, classical, Latin and world music" KAIA's recent album collaboration with Fareed Haque was chosen by the Chicago Tribune as one of the top ten classical musical recordings of 2018. Their latest album, Sureño, explores the music and relationship of composers Astor Piazzolla and José Bragato. Upcoming recording projects include a collaboration with jazz pianist Ryan Cohan and his work Originations. This piece will be part of Chicago's Jazz Fest main stage.
KAIA is deeply devoted to music education. From 2013-2017, the quartet traveled to Tijuana, Mexico to present and perform in schools through the sponsorship of the Mainly Mozart Festival. They are teaching artists for Ravinia's Reach*Teach*Play program and for the International Music Foundation's Live Music Now program. KAIA is currently in residence at DePaul University's Community Music Division.
Victoria Moreira, violin 
Naomi Culp, violin
Amanda Grimm, viola
Hope DeCelle, cello
---
Header Image: Victoria Moreira, Naomi Culp, Amanda Grimm, and Hope DeCelle, photo by Todd Rosenberg
List Image: Victoria Moreira, Naomi Culp, Amanda Grimm, and Hope DeCelle, photo by Todd Rosenberg