No events
There are no scheduled events. Please check back soon!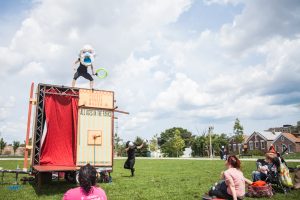 The Puppet Wonder Wagon—ALL AGES world premiere puppetry performance and workshop
Date: Sunday, May 30 at 2:00pm to 2:45pm and 3:30pm to 4:15pm
Location: Colvin House, 5940 N Sheridan Road, outdoors
The Wonder Wagon, a mobile performance platform made from a converted trailer, presents large-scale, abstract puppets in performance, followed by an outdoor puppet-building workshop for families to create their own imaginary creatures. Conceived by Will Bishop and Grace Needlman Co-Created and Co-Curated by Will Bishop, Samuel J. Lewis, II, and Grace Needlman Designed and Built by Will Bishop and Grace Needlman Devised and Performed by Will Bishop, Hunter Diamond, Samuel J. Lewis, II, Felix Mayes, Scott Ray Merchant, Grace Needlman, Cristal Sabbagh & Myles Wakefield J Music Composed and Performed by Hunter Diamond
In the event that this outdoor event is cancelled due to inclement weather, there will be a new performance date of Monday, May 31st at 1pm and 2:30pm. If the performance date does change, patrons will be notified the morning of May 30.
---
The Wonder Wagon has been bringing experimental puppetry to public spaces across the city since 2015. Performers use large abstract puppets made of colorful fabric and basketry reed to enact a series of short wordless vignettes. The characters include a giant brain, a crab claw with legs, several disembodied eyeballs, a chameleon, and more. They perform in, around, and on-top-of the wagon and interact with the audience. After every show, the audience is invited to participate further – whether to play with the puppets on the Wonder Wagon, or, this year, to participate in making workshops to build their own imaginary creatures. The Wonder Wagon has appeared in parks across the city of Chicago, at neighborhood block parties, at Links Hall, at the Ragdale Foundation, at Maxwell Street Market, and, now, at Pivot Arts Festival.