May 21, 2021 – June 5, 2021
No events
There are no scheduled events. Please check back soon!
Welcome back to LIVE performance!
The Utopian Performance Tour is an exciting, in-person event where small groups of masked audiences will be led through spaces as if moving through a gallery exhibition. Video/art installations, animation, and short, compelling performances of theater + dance. This collection of artistic experiences was inspired by the theme of the 2021 Pivot Arts Festival, Reimagining Utopia. 
Performances will take place starting at the Edge Theater Off Broadway entrance (1133 W. Catalpa) in Chicago, May 21 – June 5, with staggered start times.
Fridays at 7:30 and 8:30pm

Saturdays and Sundays at 4:00pm and 5:00pm;

7:30pm and 8:30pm

Thursday June 3 at 7:30 and 8:30pm. 
Participating artists at the Edge Theater and ColorCircles Studio include: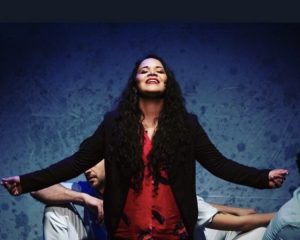 Christin Eve Cato (playwright) presents A Woman's Armor—world premiere live theatre performance
A homage to women in history who have fought for equal rights and protection under the law. Uniquely told through physical movements of self-defense, this story is a testimony of how powerful women truly are. Performed by Jessi Realzola, Chicago actor, comedian and producer.
—
Christin Eve Cato is a playwright and performing artist from the Bronx. She holds an MFA in Playwriting from Indiana University and completed her BA degree at Fordham University. Cato is also a graduate of Fiorello H. LaGuardia High School for Music and Art and the Performing Arts. She is affiliated with NYC theater companies, Pregones/PRTT (ensemble member), INTAR Theatre (UNIT 52 ensemble member), and the Latinx Playwrights Circle. Honoring her Puerto Rican and Jamaican roots, Cato's artistic style is expressed through Caribbean culture and the Afro-Latinx diaspora. She has developed her work with The Classical Theatre of Harlem, Harlem9, Pregones Theater, Milagro, Borderlands Theater, Teatro Vivo, Indiana University, Texas State University, Cardinal Stage, Conch Shell Productions, KCACTF, and The Silverton Theatre Mine. Cato is also the recipient of the 2020 Greater Good Commission for Afro-Latinx writers. An aspiring screenwriter, she is currently repped by 3 Arts Entertainment. 
Click here for a conversation with Christin to learn more about A Woman's Armor and her artistic process! 
Photo by Laura Judson
---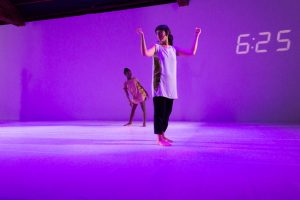 Danielle Ross (with Mike Treffehn) presents Granular Peripheries—previous and new live dance performance
A live piece with original soundscape explores how bodies in motion soak up the landscapes that we move with and among: people, buildings, sonic vibrations and weather patterns. Generated from research into how architectures have contained, organized and directed bodies.
—
Danielle Ross is a performer and scholar based in Chicago. Her in-progress, evening length solo, Granular Peripheries, meditates on how our bodies soak up the people and architectures which we move amongst and which move us.  Ross' work has been presented in Los Angeles, Minneapolis, Detroit, Chicago, and Portland. Her choreography has been supported by the Oregon Arts Commission, RACC, and the Precipice Fund. She has performed with choreographers Linda Austin, Ayako Kato, Lu Yim, Zoe|Juniper, and Bouchra Ouizguen. Currently, she is working on her PhD in Performance Studies and researching how movement artists resist gendered erasure in Morocco, Guatemala, and Nigeria. 
Mike Treffehn is an artist and bartender from Berlin, working with sound, text, performance, video, and drawing. He received his MFA from Tyler School of Art, and has since worked actively solo and as a collaborator with Matt Kalasky (as IAMTHEONEWHOKNOCKS) and doing sound design with choreographer Danielle Ross.
Click here for a conversation with Danielle to learn more about Granular Peripheries and her artistic process! 
Danielle Ross, photo by Chelsea Petrakis
---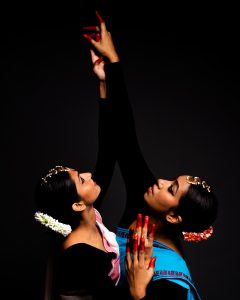 Ishti Collective presents Prana by Tuli Bera, Preeti Veerlapati and Kinnari Vora—world premiere live dance performance
Prana is an invitation to rest and recuperate. By creating an ethereal space using meditative movement, sound and light, we become aware of our breath while restoring balance and harmony with our natural state. 
—
With collaboration at its core, Ishti Collective creates a synergistic environment through dance and storytelling where artists engage with the community to generate meaningful dialogue and push the boundaries of their art. Ishti celebrates expression, promotes joy and artistic risk-taking. Ishti strives to create works that are reflective, impressionable, timely and accessible. 
Ishti has partnered with the City of Chicago for Night Out in the Parks series, SummerDance, and has been awarded the DCASE IAP grants. Ishti has presented works at the defibrillator gallery, Zhou B Art gallery and various Chicago Parks. Ishti's  Drive-in showcase in May 2020 and weekly meditation and breathing session offerings for the past year have organically landed to our current work "Prana", creating a space for restoration. 
Click here for a conversation with Kinnari Vora, Preeti Veerlapati, and Tuli Bera of Ishti Collective to learn more about their work!
Tuli Bera and Preeti Veerlapati, photo by Eddie Seitz
---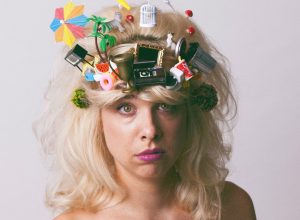 Maggie Kubley and Minnie Productions present Come Over—world premiere video installation
Maggie Kubley and Minnie Productions present a multimedia performance experience in honor of the world premiere of their music video for Kubley's song, Come Over. "Self love" and "self care" take on whole new meanings in this piece about one woman's attempt to still satisfy her sexual urges in spite of the fact that she's currently living alone through a global pandemic.
*May not be appropriate for children under 16 
Maggie Kubley  is a Chicago-based artist whose multi-media approach uses song, video, comedy, slideshow, and solo performance to explore femininity, sex, consent, depression, addiction and their various intersections. A child of the conservative midwest, cornfed a steady diet of late 90's/early 00's sexism, Kubley's work is a razor-sharp reflection on growing up too loud to be the cool girl and too much of a dork to be Grrl Power. 
Influenced by the hits of Max Martin, the self-portraiture of Cindy Sherman and the provocative performance art of Peaches, Kubley uses pop sensibilities to craft dynamic multimedia performance pieces. From the confusing moments of her teen years to the hard-to-swallow truths of her 30's, Kubley blends humor, song and unexpected imagery to encourage her audiences to embrace the community forged through the acknowledgment of past embarrassments and trauma.
Sarah Minnie, CEO of boutique production house Minnie Productions, is a Digital Artist who believes that filmmakers have the privilege of changing the world through the age-old magical practice of story sharing. Sarah's magic as a Producer and Director has led her in "bippity boppy boop-ing" content such as; commercials, fashion films, music videos, web series, pilots, short films, features and more. Her work has been published in VOGUE, The Chicago Tribune, Women & Hollywood, and in film festivals such as DC Black Film Festival, NYC Web Fest, and Austin Film Festival.
Sarah is devoted to serving the marginalized community she represents and loves. She has most recently partnered with Open Television (OTV) as the Head of Artist Development and Production. Sarah's work illuminates the power of being authentic – creating bold and unapologetic content.
Click here for a conversation with Maggie to learn more about Come Over and her background! 
Maggie Kubley, photo by Sean Robert Kelly
---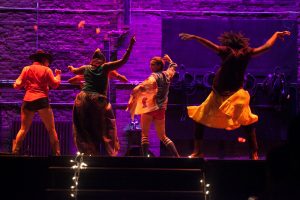 Propelled Animals present state(d) by Barber, Heidi Wiren Bartlett, Esther Baker-Tarpaga and Raquel Monroe—world premiere video installation
state(d) is part art installation, part video blending ritual and performance. The Propelled Animals encourage efficacy of the body, resilience and radical tenderness as strategies for self-empowerment. Barber / Art Director & Sound Designer, Heidi Wiren Bartlett / Creative Director & Sculptor, Esther Baker-Tarpaga / Choreographer & Performer, Raquel Monroe / Choreographer & Performer.
—
Founded in 2014, the Propelled Animals are a group of artists, dancers, scholars, musicians, and designers who embed innovative and provocative art in unconventional spaces. We are committed to creating work that interrogates, challenges, and ultimately attempts to dismantle the systemic "isms" of oppression. We adapt our projects and processes to address the specific needs of the communities we engage. Our performances encourage efficacy of the body, resilience, and radical tenderness as strategies for self-empowerment. Our work is centered on art as social action and ritual as performance.
The Propelled Animals have presented site-responsive work nationally at venues including Englert Theatre and University of Iowa, University of Northern Iowa, Wassaic Project (NY), and Grinnell College. In 2019, they were recipients of grants from the MAP Fund, MidAtlantic USAI, Frank-Ratchye Fund for Arts at Carnegie Mellon, the Iowa Arts Council, Arts Midwest, and The Puffin Foundation; as well as being artists-in-residence at the Lynden Sculpture Garden and the STUDIO for Creative Inquiry at Carnegie Mellon University. In December 2020 they were invited artists at Trade School Philadelphia. In 2021 they will be in residence at the Kelly Strayhorn Theater (Pittsburgh) and at the Schuylkill Center for Environmental Education (Philadelphia). 
Raquel Monroe, photo by Karla Conrad
---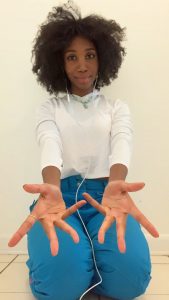 SolAR* presents Portal to New Earth by Nefertiti Abdulmalik—world premiere video installation
Portal to New Earth is a visual musical experience that combines animation, story and sound to illustrate a reality in unity with nature. The expression of the piece is a meditation on the concepts of oneness, nature, humanity and beauty. Animated and Composed by Nefertiti Abdulmalik. Assistant Animator and Environment Artist Rachele Jackson. 
—
SolAR*, Nefertiti Abdulmalik raised on Chicago's northside, has always been drawn towards the Arts and Nature. While growing up, her parents ensured that she practiced art while also studying history of the world and the social justice issues of the past and present. Her current focus is to create works that illustrate Nature and its Interconnectedness. Nefertiti holds a BFA in Animation from DePaul University and is now beginning her career as a performing artist, combining her love for Music, Dance, Animation and Storytelling.
Photo by Nefertiti Abdulmalik