No events
There are no scheduled events. Please check back soon!
In this special one-time event, three artists will present the world premieres of their short video works through a live Zoom screening, directly followed by a post-showing discussion with the artists.
These short video experiences will premiere virtually, offering accessibility to audiences everywhere. This collection of artistic experiences was inspired by the theme of the 2021 Pivot Arts Festival, Reimagining Utopia.
While these videos will remain accessible on the Pivot Arts website from May 28th-June 6th, the live artist dialogue will only be accessible on May 27th, directly following the video debuts.
---
Featured Works:
Lemon & Oil (Nostalgic Buds) by Sami Ismat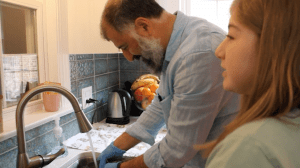 Lemon & Oil (Previous working title: Nostalgic Buds) explores the nostalgic experience of immigrants shopping at ethnic food stores when moving to the US to remember pleasant moments from their home countries. Through a virtual showing and conversation, artists and audience members will attempt to recall cultural values that might be foundational to imagining, and one day rebuilding, a utopic version of their home country.
Performers include Aykut Sinanoglu, Julee Sinanoglu, and Neylan Sinanoglu. 
Sami Ismat is an interdisciplinary artist from Damascus, Syria working between theatre, performance & film alongside other disciplines. Sami creates work that unpacks, investigates, and interrogates the ongoing Syrian crisis, and its effects on society. Sami's work challenges mainstream ideas on refugees, Muslims, and the Middle East through his own biographical experiences, provoking emotional responses and pushing viewers to reevaluate social and cultural norms of Eurocentric & Middle Eastern societies. His theatrical works portrays the political realities of Syria through devised theatre techniques and interdisciplinary storytelling aesthetics inspired by global performance as a source. Sami's projects are often process oriented and the rehearsals are based on experimentation and exploring sources of research in a collaboration.
—
Utopian Views by Ndgo Blk with Perceptions Theatre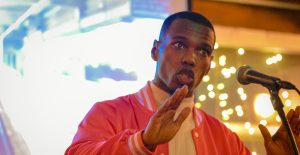 Utopian Views explores what makes a place a utopia and the changes Chicago would have to make to reach such a state. Before we build policy, we must center the most oppressed, understanding how our ideals and actions harm one another.
Written and performed by Ndgo Blk.
Ndgo Blk is a Chicago based MC, vocalist, and producer whose art centers Black-urban narratives. Whether the song be carefree or politically charged, Ndgo Blk offers poetic, hip-hop and pop music that echos artist like Frank Ocean, Tobi Lou, and Miguel. 
Perceptions Theatre works to change the way people perceive the world around them, one show at a time, by shining light on underserved communities. They present theatre that: eliminates prejudice and discrimination through representation and education, lessens neighborhood tensions, and defends human and civil rights. They work to offer entertainment as well as an educational and literary training ground to the South Shore Chicagoland area. 
—
The Real Dance: A Micro Reality TV Show by Nora Sharp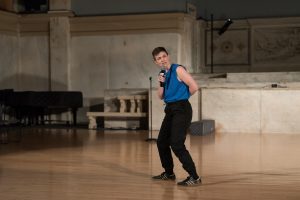 The Real Dance: A Micro Reality TV Show is the true story of five dancers, forced to live in their houses, dance (mostly) alone and have their improvisations taped, to find out what happens when people stop being polite and start moving for real.
Performers: Christina Chammas, Jenn Freeman | Po'Chop, Irene Hsiao, Nora Sharp, & Dorian Vanunu
Original Score: Dorian Vanunu
Dramaturgy & Creative Consultation: Grace McCants & Aaron Greer
Graphics & Video Development: Sydney Sullivan
Editing & Captions: Nora Sharp
Director: Nora Sharp
Nora Sharp is a multidisciplinary creator and performer whose work spans dance, storytelling, comedy, and film. Nora's work has been presented at Steppenwolf Theatre's LookOut Series (Chicago), On the Boards (Seattle), Movement Research at the Judson Church (NYC), the Shawl-Anderson Dance Center (Berkeley), and the Midwest Regional Alternative Dance Festival (Kalamazoo). Nora has been an artist in residence at High Concept Labs and Links Hall Co-MISSIONS, a selected choreographer for Synapse Arts – New Works, and a twice Featured Artist in the Fly Honey Show, and has also performed for or collaborated with Spence Warren, Ayako Kato, Udita Upadhyaya, Aaron Greer, Lindsey Barlag Thornton + Amanda Dunne Acevedo, Jane Jerardi, and Kirsten Leenaars, among others.